Preflight Tool
Our Bespoke Quoting and Ordering Site allows you to create instant quotes or request quotes from our team.
When you are ready to place an order, we want to make sure your files are print ready so we have created a Preflight Tool.
Please download the tool here:
The Preflight Tool
Download the new Preflight Tool below.
Using the Bespoke Preflight and Submission Tool
Double click on the application or single click on the desktop shortcut.
A prompt may appear at this point advising you of a version update, follow the instructions on screen, this will only take a few moments.
Drag and drop your PDF file onto the Preflight Tool. You will be presented with a job ticket to fill out.
Select component from the drop down menu: Single Item: eg Poster, Leaflet, Business card. Self Cover: Saddle Stitched cover and text printed with identical stock and finishing specifications. Cover: Separate cover file. Text: Separate text file. Insert 1,2,3,4: eg Colour insert sections to be inserted into the main book block text
Preflight Results
You should review the warnings and fixes before sending the file as some file attributes triggering warnings you may want to fix. If you are happy to proceed you can click the send button. An email notification will be sent to the email address entered into the job ticket when the file has successfully arrived at the hub.
If your file has generated errors, please review the errors and fix these yourself or use the File Fix function of the Preflight Tool. The errors must be fixed before submitting, if you have difficulty with this please contact info@wholesaleprint.co.nz for advice. 
Q: Do I have to use the Preflight tool?
A: It's a really good idea to use the tool because this tool is the only way that you can check your files against our production requirements before ordering. If you use the preflight tool and fix any errors, this will ensure that there are no delays getting the job into production. If you don't use the Preflight tool, the files might not be print ready, which will create delays getting the order into production.
Q: Should I use the File Fix option on the Preflight Tool?
A: If you do not have the resources to add bleed to your file, change RGB colours or supply us the correct sized file, yes.
Before you start
Here are some tips on how to prepare files for a variety of print jobs.
Covers for perfect bind and saddle stitched book need to be created as a spread. For example 426 mm for an A4 perfect bound book with a 6 mm spine (210+6+210).
Wiro bound book covers should be submitted as either a 4 page PDF or a 2 page PDF.
To avoid confusion, blank pages need to be inserted to represent unprinted pages.
Wiro covers printed front and back covers:
Page 1: OFC
Page 2: IFC (blank page if not printed)
Page 3: IBC (blank page if not printed)
Page 4: OBC (blank page if not printed)
Wiro covers printed front cover (when using a separate stock plain black or white backing card):
Page 1: OFC
Page 2: IFC (blank page if not printed)
If any pages are unprinted they must still be present as a blank in the PDF.
Components of books printed with different stocks and finishing specifications will need to be submitted separately eg. perfect bound book, wiro bound text and cover.
Supplying Files for jobs quoted in our Bespoke Quoting and Ordering Site? 
You can now upload your print ready files directly in the Bespoke Quoting and Ordering site.
You will need to compress multiple files into one .zip file before you upload.
You will now see the following upload window after you have finished your quote: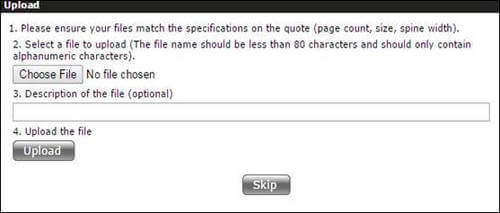 If you want to upload the files from a quote you have Saved For Later, you can upload using the icon below:
Q: How do I upload more than one file?
A: This system allows a single file upload per order. Multiple files, such as cover and text files need to be compressed into a .zip file. You no longer have to change file names because these files will be uploaded directly to the order through this system.
Q: When I click Save For Later, the system asks me to upload the file. What should I do?
A: If you upload the files at this time, they will not be there when you go to order this item. Please upload the files when you are ready to place the order.
Need Help?
If you would like some more information or advice when setting up your graphic files, take a look at our File Supply Guide or get in touch on info@wholesaleprint.co.nz or call us on 0800 289 774.