Certain products have an option to add a die cutting guide to achieve a cut shape, perforation, score/crease or punched hole.
Download the appropriate template to start your design from. All of our InDesign templates include specific colour swatches for all finishing options.
Simply supply us your Die-Cut lines in spot colour 'DIE-CUT FORME' set to overprint on page 1 of your PDF.
OR the instructions below detail how to set up the colour yourself:
 To do this you need to:
1. Create a New Colour Swatch
2. Name the swatch 'DIE-CUT FORME' (must be exact)
3. Set Colour Type to Spot
4. Set Colour Mode to CMYK
5. Colour Make-up of DIE-CUT FORME is 37.1% Cyan, 0% Magenta, 82.59% Yellow and 0% Black (must be exact)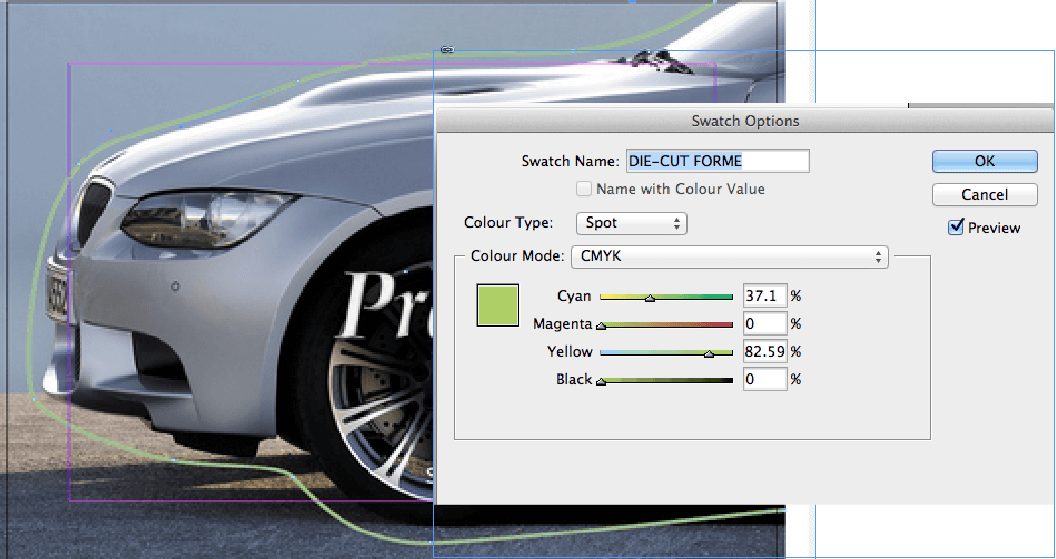 You can specify a cut shape, perforation, score/crease or punched hole. You indicate these using different stroke/line types. All diecut lines must be 2pt. The different cut/perforation types are denoted by line style:
Feature name
Finished appearance
Graphic file specification
Cut

Continuous cut

Solid line
Perforation

3 pt gap, 3 pt cut, …

12pt dash, 2pt gap,
2pt dash, 2pt gap, …
Crease

Continuous crease

2pt dash, 2pt gap, ...
Punched hole
Available as: 1 mm  – 10 mm in increments of 1 mm.

Fill Colour

: 

DIE-CUT FORME

, overprinted.


Diameter

: 1 mm – 10 mm.
 We have die cut samples available, just ask for your free copies.
Die-cut complexity
All shaped products include the price of a simple die-cut shape. If you require a complex shape, get in touch for a price info@wholesaleprint.co.nz or call us on 0800 289 774.
Minimum corner radius
The minimum corner radius on a die cut is 3mm. Take a look at the specific guidelines for creating artwork with rounded corners.
Acute Die Cut Shape and Angles
If you are designing a die-cut product that requires an acute angle, you must be aware that there is a minimum angle radius where the two lines meet into a point of 5 degrees.
Vectors only for Die Cut lines
Die Cut elements must be supplied in vector format within your PDF.
Smallest size
You need to be able to place either one 45mm diameter circle, or two non-overlapping 30mm diameter circles within your shape.
Nicks to hold your cut-outs
To prevent a cut out shape from 'falling out' of the sheet, we will place small nicks in the cut lines. These nicks are made with a grinding wheel.
The more straight edges that we can cut at the guillotine later, the fewer nicks required to hold the product in the sheet.
Left: Two straight edges = no nicks; Right: One straight edge = many nicks.
We will always use the minimum number of nicks required to keep the required shape intact until it is packed. If you wish the push out shape to remain intact during use, you should select one of the perforating options instead of a cut.
Proximity of die-cut lines
Unless it is vital to your design, make sure that die-cut lines do not encroach within 3mm of the edge of the page. It could impact on the finishing of your order if lines are placed within 3mm of the page edge.
Lines that end at the trim edge of the product must bleed to the edge of the artwork. Creases should have a minimum spacing of 6 mm. Keep creases and cuts at least 2 mm away from SPOT-UV elements to avoid cracking of the Spot UV.
Need Help?
If you would like some more information or advice when setting up your graphic files, take a look at our File Supply Guide or get in touch on info@wholesaleprint.co.nz or call us on 0800 289 774.