There are a few elements that you should consider that are specifically related to our digital printing process. Follow this advice to ensure you get the best possible printed results:
Total Ink Limits
Avoid using colours with a total ink limit over 275%. Any colours exceeding this will be automatically re-mapped to their nearest equivalent so there may be a shift in colour.
Design Elements
Where possible, keep the design simple, lots of white space tends to work well. Large areas of flat colour can be problematic, resulting in an uneven solid that can look banded. A large area is defined as larger than 40mm square.
Using Grey
To achieve neutral shades of grey use black only. It is best to avoid using grey tints below 20% or over 80%. Large areas of grey can appear patchy and uneven - consider adding a texture to help mask this. Greys that are made up of all four CMYK printing channels have a tendency to print unevenly with a yellow cast to them.
Gradients and Blends
Gradients don't print well. If you must use them, try adding texture or a low amount of noise to ensure a smoother transition from light to dark. Alternatively, limit blends to less than a 50% tint change. Grey tints are less forgiving than other colours. You'll get better results if you create your blends in a raster based application such as Photoshop®.
Tints
Consider adding texture to any large areas of colour, especially on lighter tints. Avoid using tints below 10% as these are likely to disappear when printed.
Digital Booklets
When designing your digital booklet you need to allow for creep. Bear in mind that with the Thin White Border products, the thickness of the border will vary throughout the booklet due to the creep being trimmed off.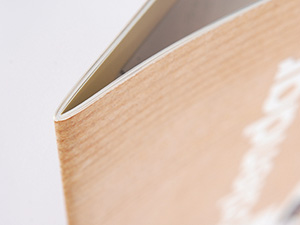 Digital Folders
We have a digital folder template available for you to design within. The template contains guides on the Finishing Layer to indicate the cut and scored elements of the Folders to help you layout your design, please request it from us.
There are quiet zones around the interlocking flaps and and business card slots, we recommend that artwork stays clear of these zones.
Need Help?
If you would like some more information or advice when setting up your graphic files, take a look at our File Supply Guide or get in touch on info@wholesaleprint.co.nz or call us on 0800 289 774.