Artwork for Folded Leaflets is the same as regular flat products. The artwork is to be designed 'flat', showing more than one panel per designed page, with essential elements avoiding the folds and edges. You don't need to supply us folding guides for our standard folds - please contact us if you are designing a file that needs custom folding.
Download one of our Indesign Templates to base your design on. The fold marks and quiet zones provided in the design templates are to help with design, and do not appear on printable artwork.
Our Most Popular Folds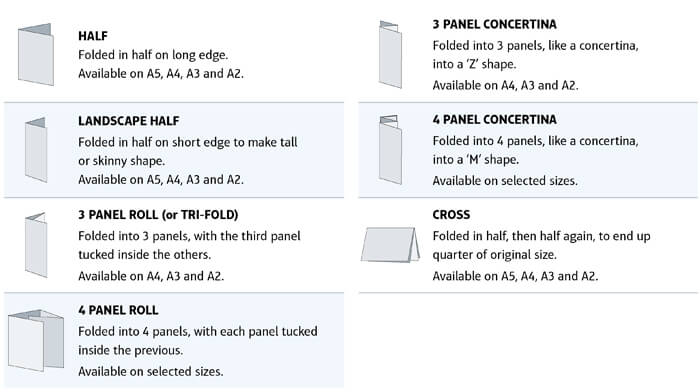 Check panel sizes
A mistake commonly made with Folded Leaflets is to design incorrectly sized panels for the product's fold type, resulting in the product looking unusual, e.g. short front panels, panels missing their folding line, front-to-back misalignment, and even mixed-up panels. Please download a template to avoid fold alignment issues.
Keep essential elements away from edges and folds
Respect the Quiet Zones by keeping text at least 4mm away from the folds – these Quiet Zones are identified on the Quiet Zone layer of the templates.
Create a physical mock-up
We'd recommend that you produce a working mock-up of the design yourself (there is no requirement for this to be sent to us though). This often gives an indication of what makes a well-balanced layout, and might also catch layout errors.
 
'Front cover panel' backgrounds
We recommend that 'Front cover panel' backgrounds should overlap the fold. When designing Folded Leaflets with a front panel background that is close to the fold, ensure that the picture overlaps the fold by 1 mm. This allows for production tolerances when folding, and prevents a contrasting stripe (from the adjacent reverse panel) from showing on the front face of the finished Folded Leaflet.
File Supply
The outside design should be supplied as page 1 and the inside design as page 2. You can supply two seperate PDF files or 1 PDF with 2 pages.
Need Help?
If you would like some more information or advice when setting up your graphic files, take a look at our File Supply Guide or get in touch on info@wholesaleprint.co.nz or call us on 0800 289 774.