If you're looking to start the artwork for a greetings card, please email info@wholesaleprint.co.nz and we can provide a template for you to work from.
Cover picture overlaps crease
When designing greetings cards with a front panel background that should touch the fold, ensure that the picture overlaps the fold by 1mm.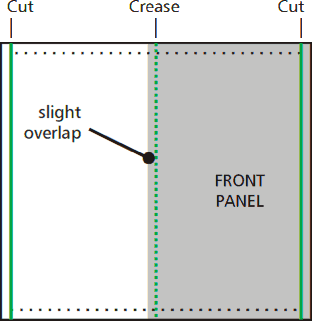 This allows for production tolerances when creasing, and prevents a contrasting stripe (from the adjacent panel) showing on the front face of the finished card. Remember to manage your customer's expectations that there may be part of the front design just visible on the back.
Cuts parallel to the crease
Folding products on heavy board (e.g. greetings cards, folding business cards, etc.) now contain die-cut lines to form the two cuts parallel to the centre crease. This should help the edges to meet up correctly when folded. Do not remove these lines.
Landscape Greetings Cards
When viewed flat, the inside artwork needs to read upside-down relative to the front.
Need Help?
If you would like some more information or advice when setting up your graphic files, take a look at our File Supply Guide or get in touch on info@wholesaleprint.co.nz or call us on 0800 289 774.