Digital Greeting Cards (Creased Cards)
Not always used as a greeting or birthday card. Creased cards can be also used for menus, product cards, and so much more. Often creased in the middle, but can also be creased more than once to create other fold options.
Introduction
For a reasonably simple product sometimes creased cards can be a bit tricky! This article outlines how to set up a Creased card product for print.

Templates
To help set your file up, download templates here:
Creased Cards
Landscape Creased Cards
When it comes to a creased card that is creased on the short edge. For example, an A5 page is folded to an A6 card and the finishing orientation is landscape. You'll need to ensure that the inside artwork is read upside down, this is so when the person opens the card, it reads correctly for them.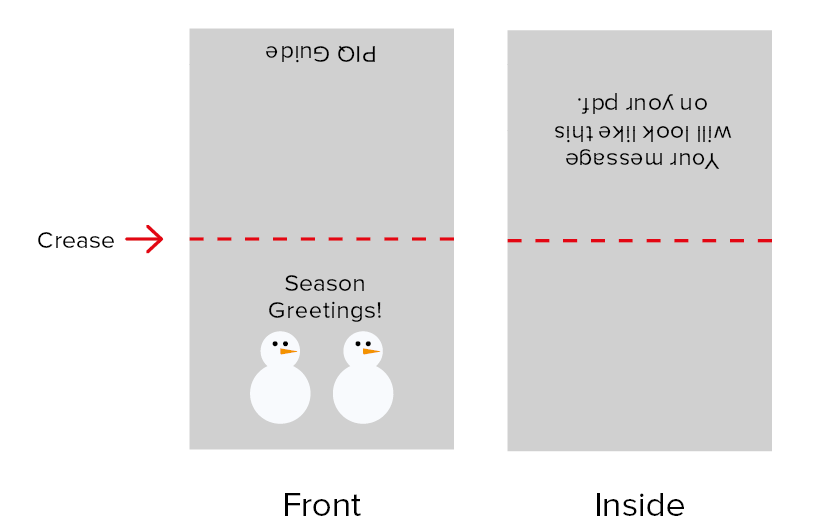 We always recommend doing a test print to make sure you've got the orientation correct.
Front Panel Overlap
When designing greeting cards with a front panel background that goes to the fold, ensure that the picture overlaps the fold by 1mm.
This allows for production tolerances when creasing, and prevents a contrasting stripe from showing on the front face of the finished card. Remember to manage your customer's expectations that there may be part of the front design just visible on the back.
Indicating where to Crease(s)
It's best to indicate where you need your card to be creased (even if it's just in half).
To do this you will need to use the
 Crease Swatch, 
mentioned previously in the 
Die Cut
(Finishings)
 article. Follow the steps there to set up your swatch.
To indicate where to crease follow these instructions:
Place your crease lines above your artwork using the crease spot colour swatch (We recommend creating a finishing layer within your artwork, to maintain a neat and tidy file).
All lines must be at 1pt stroke width.
Lines must cover the page (no lines that stop in the middle of the page).
Set the creasing lines to Overprint from within the Attributes panel.
Only place lines on the front page of your artwork. (You may do so on the reverse to help with your design, but this must be removed prior to sending your file to print).
Questions?
If you have any questions, please contact your account manager.
Resource
Folds

Stock Options

Creased to BC

Creased to DL

Creased to A6

Creased to A5

Creased to A4

200gsm

210gsm

235gsm

250gsm

300gsm

350gsm